Overview - ICDAR 2019 Robust Reading Challenge on Reading Chinese Text on Signboard
Texts in natural images carry much important semantic information. Automatically detecting and recognizing text in natural scene images has been receiving increasing attention due to its wide range of applications. It's also an important prerequisite for many content-based image analysis tasks.
In recent years, more and more datasets including Chinese have been proposed for natural scene text reading tasks, such as MSRA-500[1], RCTW[2], SCUT-CTW1500[3], CTW[4], etc.
​Figure 1. Text images with various layouts, fonts, and orientations.
The layout and arrangement of Chinese characters in signboards are obviously different from that in other scenes. For the sake of aesthetics appearance or highlighting certain elements, the Chinese characters can be arranged in various layouts with various fonts. For instance, characters in one word or text line can be in diverse fonts, various orientations or distributed in irregular layouts (see Figure 1). Previous word-based reading systems are hard to deal with irregular layouts such as triangles, as shown in Figure 2. In these cases, characters and their relations should be considered to read them semantically. In our dataset, we annotate not only the text lines, but also the characters, including positions and character codes, which can inspire and power new algorithms that make use of the arrangement of characters.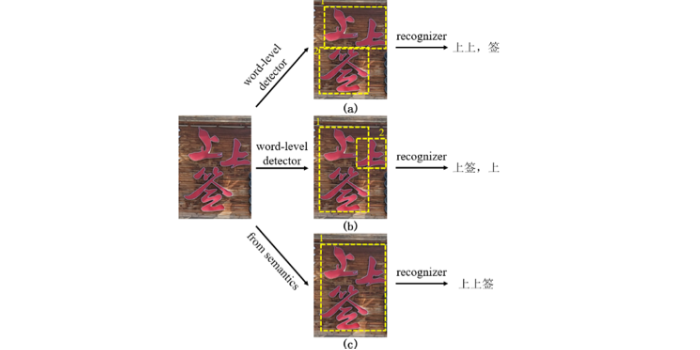 ​Figure 2. An example of reading text of irregular layout.
We collect and construct a practical and challenging multi-orientation natural scene text dataset (TORS-25K) with 25,000 images, which consist of lots of restaurant signboards. In the dataset, all text lines and characters are labeled with locations and character codes. Besides, five tasks are presents for this competition: (1) end-to-end recognition on the signboards, (2) text line localization on the signboards, (3) character recognition on the signboards, (4) text line recognition on the signboards.
We hope that the dataset and tasks could greatly promote the research in Chinese text detection and recognition.
Awards
The prize for ICDAR 2019-TORS is $8,700 in total, sponsored by Meituan.
Task 1. End-to-end recognition on the signboards, for top 3 winners.
Task 2. Text line localization on the signboards, $1,500/$1,000/$600 for top 3 winners.
Task 3. Character recognition on the signboard,
Task 4. Text line recognition on the signboards,
Reference
[1] MSRA-500:C. Yao, X. Bai, W. Liu, Y. Ma, Z. Tu. Detecting Texts of Arbitrary Orientations in Natural Images. CVPR, 2012.
[2] RCTW:Shi B , Yao C , Liao M , et al. ICDAR2017 Competition on Reading Chinese Text in the Wild (RCTW-17)[J]. 2017.
[3] SCUT-CTW1500:Yuliang L , Lianwen J , Shuaitao Z , et al. Detecting Curve Text in the Wild: New Dataset and New Solution[J]. 2017.
[4] CTW:Yuan T L , Zhu Z , Xu K , et al. Chinese Text in the Wild[J]. 2018.